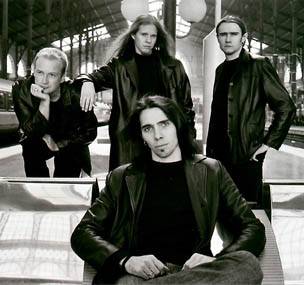 The Old Dead Tree
é uma banda francesa, fundada por Manuel Munoz (Vocals, Guitars) e icolas Chevrollier (Guitars) em meados de 1997, caracterizada por um estilo que vem ganhando certos adeptos nos últimos anos, que é o "depressive rock", no qual há uma fusão entre
Dark/Doom Metal
com o
Rock/Pop
, garantindo uma acessibilidade maior as músicas mas sem a perda de peso ou a atmosfera obscura que elas confeccionam.
Durante o ano de 1999, uma tragédia aconteceu com a banda, que foi a morte do então baterista Frédéric Guillemot, que veio a cometer suicídio. Algo que podia ter abalado as estruturas da banda e acabado de vez com sua carreira acabou servindo como combustível para continuarem e comporem cada vez mais, e num nível cada vez mais elevado de qualidade, dando origem então ao álbum que posto agora, chamado
The Nameless Disease
, que só veio a ser lançado de fato em 2003.
Neste álbum, cada música é uma pequena homenagem ao amigo perdido além de uma forma de canalizar toda a angústia, ira e tristeza que sentem num afluente musical, criando uma atmosfera obscura e tortuosa ao mesmo tempo que de fácil assimilação e extremamente grudenta. As músicas ressoam na cabeça depois de poucas ouvidas, conduzindo naturalmente o ouvinte ao universo de sentimentos e sensações por muitas vezes aflitantes que elas constroem. Difícil não se encantar e se deixar levar por elas, realmente...
Depois desse álbum, a banda conseguiu um certo reconhecimento pela Europa e participou de vários festivais por lá, bem como uma turnê com o Epica. Lançaram dois álbuns depois deste,
The Perpetual Motion (2005)
e
The Water Fields (2007)
, mas na minha singela opinião o primeiro foi justamente o melhor, não só pela temática e circunstância que foi composto, mas pelo conjunto geral que conseguiram desenhar. Recomendo a todos, não importa sua preferência musical. ;)
[official website]
|
[myspace]
|
[last.fm]
[2003] The Nameless Disease
01 - We cry as one
02 - It can't be!
03 - How could you?
04 - Won't follow him
05 - It's the same for everyone
06 - Somewhere else
07 - Joy & happiness
08 - Transition
09 - Quietly kissing death
10 - All...
11 - The Bathroom Monologue
[review in english]
[purchase]
[download]