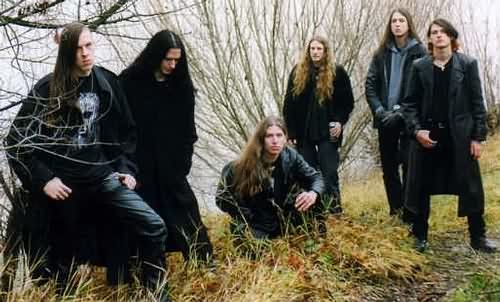 Nocte Obducta
foi formada em Mainz, Alemanha, no ano de 1995 por Marcel V.A. Traumschänder, sob o nome inicial de Desîhra, e desde então vem consolidando seu nome na cena (sic) Black Metal local e mundial ao lado dos conterrâneos
Farsot, Lunar Aurora
e o "vizinho"
Dornenreich
.
Até aí, nada de tão excepcional assim. Mas o que realmente chama a atenção a partir do momento que começamos a ouvir os primeiros acordes e primeiras melodias. A qualidade técnica de suas músicas realmente impressiona, sendo bem acima da média do gênero. Outro fator que chama a atenção é a veia progressiva de suas músicas, explorando uma larga dimensão de texturas, ambiências e sentimentos em cada passagem, como se construissem um pequeno labirinto de sensações e paisagens sonoras que vão se modificando e transformando ao longo da passagem do tempo, intercalando momentos mais calmos e introspectivos com aqueles mais ríspidos e nervosos de forma inteligente. Para completar, é interessante ver também suas letras em alemão, abordando de forma poética elementos da natureza e o lado mais sombrio da alma humana, numa qualidade bem acima da média do gênero, também.
Normalmente, suas músicas possuem mais de 10 minutos e às vezes até mais de 20, como é o caso das duas músicas que compõem este CD que vos posto. Confesso que no começo fiquei um pouco "assustado" e pensei que fosse ser difícil aguentar mais de 20 minutos de cada música, mas eis que me veio uma (outra) agradável surpresa. A banda trabalha tão bem suas passagens sonoras que praticamente não se sente os mais de 20 minutos se passarem para cada música, como se cada melodia se integrasse perfeitamente com a seguinte e assim por diante, soando tão natural como um rio seguindo seu curso ao longo de diferentes paisagens e tamanhos de margem, fazendo jus ao seu nome "Sequenzen Einer Wanderung" (traduzido literalmente como "Sequência de imigrações").
Enfim, foi uma agradável surpresa que tive nos últimos dias, e pensei que não haveria algo melhor, no momento, para deixar aqui no blog e compartilhar com aqueles que ainda não conhecem. Se existe uma banda que merece, mesmo, o rótulo "
progressive black metal
", essa é o Nocte Obducta.
Here are NOCTE OBDUCTA after a short initial phase back in their homeland, in their familiar surroundings. Accordingly, there is also fierce riffs and faster passages to be heard. Nevertheless, the musicians from Mainz never been so vehement, like in the old days, but slow and gloomy, but also epic and monumental, until his monolithic end. Can you exclusively with the album "Black Metal" something start to hear rather away. Are you open to all sorts of dark sonic experiments, rampant progressive sound landscapes, so atmospherically are like a stroll through the city during a snow storm, then this is your album.
[last.fm]
| [
myspace]
|
[official website]

[2008] Sequenzen Einer Wanderung
01 - Ende
02 - Nebel II
[purchase]
[download]