If These Trees Could Talk
é uma banda originária de Akron, Ohio, da terra do Tio Sam, sendo fruto da vontade e da criatividade de Zack Kelly. Enveredando-se pelas paisagens cada vez mais tortuosas e densas do
Post-Rock
, IFTCT (abreviar é necessário, né?) lançou seu primeiro EP, auto-intitulado, no ano de 2006 e conseguiu uma boa repercussão e consideração por parte dos fãs numa época que parece ter havido um grande "boom" do Post-Rock, garantindo que seu nome ficasse na boca e nos discos rígidos de vários admiradores do gênero. Esse ano de 2009 marca então o lançamento de primeiro full-length, chamado
"Above The Earth, Below The Sky"
, e é sobre ele que falarei com mais detalhes agora.
Apesar da banda poder tranquilamente receber a alcunha de Post-rock para seus trabalhos, parece que a própria banda recusa esse rótulo e prefere referir-se como apenas uma banda de Rock, a qual possui influências principalmente de Indie e Rock Progressivo e adota alguns elementos característicos da sonoridade do Post-rock, sendo esse o motivo da identificação com ele. Seja lá o que isso quer dizer, afinal, o fato é que a banda consegue explorar muito bem o universo celeste, onírico e contemplativo que constitui a alma do gênero, porém o IFTCT adota uma postura menos "post" e mais "rock", de fato, o que lhe confere uma certa identidade em relação à maioria das bandas que orbitam nesse universo além de tornar suas paisagens sonoras mais orgânicas do que essa média, também. Suas músicas sempre fazem referência à natureza, tanto nos títulos quanto na música em si, e essa característica torna-a talvez um pouco mais humana e palpável aos nossos seis sentidos ainda que em nada perca o tom sonhador e surrealista tão marcante do universo Post-rock, aliás, parece que até acrescenta algo a ele, no fim das contas.
Enfim, resumidamente trata-se de um álbum agradabilíssimo e de grande qualidade técnica, impressionando não exatamente pela profundeza de sua verve ou de uma visão vanguardista, mas sim por transformar algo que seria "mais do mesmo" em alguma coisa tocante e fascinante de uma maneira completamente natural, sincera e inteligente, deixando a essência de seu encanto na sua simplicidade e aparente "falta" do mesmo. Mais um álbum que recomendo não somente para adoradores do "Rock feito com propósitos que não o Rock" mas para qualquer um que se diga admirador de boa música.
[last.fm]
|
[myspace]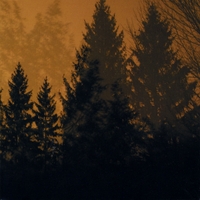 [2009] Above The Earth, Below The Sky
01 - From Roots To Needles
02 - What's In The Ground Belongs to You
03 - Terra Incognita
04 - Above The Earth
05 - Below The Sky
06 - The Sun Is In The North
07 - Thirty-Six Silos
08 - The Flames Of Herostauros
09 - Rebuilding The Temple Of Artemis
10 - Deux Ex Machina
[review in english]
[purchase]

[download]