O
Disillusion
foi formado em Leipzig, Alemanha, por Tobias Spier, Alex Motz, Markus Espenhain, Jan Stölzel e o multi-instrumentista e principal compositor Andy Schmidt em 1994, mas só lançou seus primeiros trabalhos por volta de 2001-2002, influenciados basicamente por bandas de Tech/Prog Metal como Meshuggah, embora com elementos diferentes como trechos acústicos e uma levada um pouco mais sutil.
Back To Times Of Splendor foi então o seu primeiro full-length, lançado em 2004, e que surpreendou a todos pela grande qualidade musical e técnica, numa abordagem bem diferenciada. Pode-se dizer que eles conseguem aliar a agressividade e violência sonora do Death Metal com os tons densos e obscuros do Doom Metal com a técnica e versatilidade do Prog Rock, dando espaço ainda para teclados, passagens acústicas e violinos ocasionais e bem temperados, dando assim com tempero ainda mais peculiar ao universo sonoro eclético e inteligente que é este álbum. Diria que bandas como Death, Opeth, assim como o já mencionado Meshuggah, servem como boas referências ao Disillusion, apesar da banda ter uma identidade bem marcante.
No entanto, para a desilusão de muitos (adoro esses trocadilhos bestas, fato - e eu me incluo nesses 'muitos' -), seu outro CD,
Gloria (2006)
não possui nem de perto a qualidade deste álbum, indo para caminhos mais industriais que, infelizmente, não deram muito certo. Mas o Back... é realmente um álbum indispensável para qualquer ser vivo (ou não-vivo) que tenha algum gosto por música progressiva e metal, e sem soar como um Prog Metal cliché e presunçosamente virtuoso. E espero, sinceramente, que eles voltem aos seus tempos de esplendor (é, não resisti de novo :P ) e lancem algo tão bom quanto este CD no futuro.
[official website]
|
[myspace]
|
[last.fm]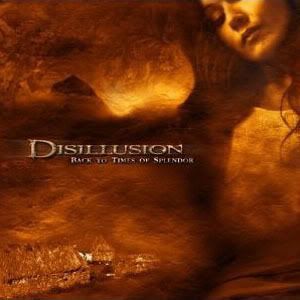 [2004] Back To Times Of Splendor
01 - And The Mirror Cracked
02 - Fall
03 - Alone I Stand In Fires
04 - Back To Times Of splendor
05 - A Day By The Lake
06 - The Sleep Of Restless Hours
[review in english]
[purchase]
[download]