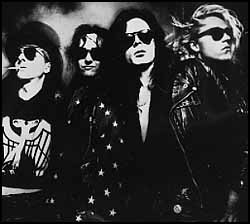 Sisters Of Mercy foi formado em 1980 por
Andrew Eldritch
(vocal, inicialmente bateria) e Gary Marx (guitarra), tendo se juntado a eles, alguns anos depois, o baixista Craig Adams, um outro guitarrista chamado Wayne Russel (que alguns anos mais tarde viria a sair do Sisters e fundar o The Mission, banda que mantem até hoje) e uma "drum machina" conhecida como Dr. Avalanche.
A sonoridade do Sisters é marcada por vários aspectos, dentre eles o vocal extremamente grave e profundo do Eldritch, a sonoridade soturna e com influências psicodélicas, remetendo a
Doors, Velvet Underground
e ícones mais recentes como
Joy Division
em low/midtempo, além de letras de aspecto igualmente sombrio, abordando temas como fim do mundo, morte, e literatura de suspense/horror. Eles vieram a se tornar, posteriormente, um dos alicerces principais do chamado
Gothic Rock
, e tiveram uma influência seminal em praticamente tudo que foi feito dentro desse subgênero, e até nas subdivisões que vieram a ser criadas nos anos seguintes. Até mesmo em seu último trabalho de estúdio,
Vision Thing
, se tornou um álbum seminal para o chamado
Glam/Gothic Rock
, que entrou em evidência no começo desta década.
O álbum que posto aqui é o segundo trabalho da banda, chamado
Floodland
. É um pouco diferente do primeiro,
First And Last And Always
, devido principalmente a um racha na banda, onde Wayne Russel saiu e formou o
The Mission
. Percebe-se então que o lado mais melódico e acessível que a banda possuía, cortesia do Wayne, se perdeu um pouco, dando lugar a uma sonoridade ainda mais fria, seca e obscura, embora não menos envolvente e sem perder um décimo de sua qualidade. Para dizer a verdade, até me agrada mais o estilo deste álbum do que do anterior, e ainda mais do que o seguinte, mas isso é mera questão de gosto pessoal...
O que posso dizer então é que vale muito a pena, nem que seja uma simples conferida, escutar este álbum. Não só pela sua importância histórica seminal, mas pela qualidade musical que ele também possui. Acredito que os mais chegados em post-punk e afins já saibam de cor cada acorde do CD, mas é uma boa chance de conhecer para aqueles que chegam agora neste microcosmo gótico (sic) ou são apenas entusiastas da boa música e ainda não o conhecem. Bom, é isso. Enjoy it! ;)
[last.fm]
|
[official website]
[1987] Floodland
01 - Dominion - Mother Russia
02 - Flood I
03 - Lucretia My Reflection
04 - 1959
05 - This Corrosion
06 - Flood II
07 - Diven Like The Snow
08 - Never Land
09 - Torch
10 - Colours
[review in english]
[purchase]
[download]