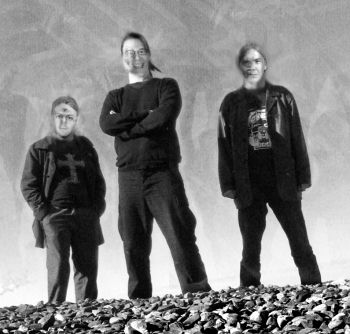 Pré-script:
Devo pedir desculpas pelas postagens escassas, meu horário na faculdade está bem mais cheio dessa vez e imagino que meus colegas de blog estejam igualmente apertados. Bem, esse é o recado, agora vou ao que interessa:
Umbra Nihil
é uma banda vinda das gélidas terras do norte finlandês, nascida em meados dos anos 2000. Tendo lançado seu primeiro trabalho, uma demo contendo 5 faixas, em 2002 e recebido uma certa atenção por causa dela, pouco tempo depois utiliza as mesmas 5 faixas num split com os conterrâneos do
Aarni
e lançado seu primeiro full-length pela firebox em 2005, chamado de Gnoia. Depois de um hiato de mais de três anos, a banda ergue-se de sua sepultura e volta a terra, lançado o The Bordeland Rituals em 2008, álbum que posto aqui agora.
A sonoridade da banda é um tanto difícil de se definir. Suas raízes estão certamente aterradas nas florestas do Funeral Doom Metal e percebe-se em seu som influências marcantes de vários mestres do estilo (
Thergothon, Skepticism, Esoteric
, só para citar alguns), mas o Umbra Nihil o acrescenta uma série de elementos inusitados e uma abordagem igualmente inusitada para o gênero. Além de explorar devidamente nuances ambientes (algo não muito incomum, até), a banda acrescenta toques psicodélicos as suas criações, criando assim uma atmosfera nebulosa, grotescamente obscura e permeada de nuances surrealistas, algo digno dos universos da obra de
tH.P. Lovecraft
ou mesmo das criaturas do
H.R. Giger
, o que foge um pouco do padrão do dubgênero, normalmente voltado a temáticas melancólicas de grande profundidade porém sem perder a sua essência em nenhum átomo.
O álbum postado aqui agora,
The Borderland Rituals
, demonstra algumas ligeiras mudanças (ou evoluções, como queira chamar) em seu universo sonoro, através da presença de vocais limpos bem como uma atmosfera menos tenebrosa e mais cristalina, fato que deve ter sido influenciado pela produção, desta vez superior aos outros álbuns. Mas em nenhum momento digo que a banda perdeu a mão ou mesmo desceu na escala de sua qualidade artística, pois tanto essa qualidade como os elementos que a tornaram de certa forma cultuadas pelos amantes do Funeral Doom permanecem lá, para sua (e minha também) "alegria". Bem, espero sinceramente que gostem!
[last.fm]
|
[myspace]
|
[official homepage]

[2008] The Bordeland Rituals
01 - Welcome To Borderland
02 - Open The Gate
03 - Leaving The Body
04 - Sea Of Sleep
05 - The sign Of Death
[review in english]
[purchase]

[download]