Red Sparowes
foi fundado na California, EUA, no ano de 2004, tendo em seu line-up integrantes e bandas nada menos que
Isis
e
Neurosis
, chegando inclusive a fazer tour com o próprio Isis na época do Panopticon, com o Dillinger Escape Plan e Made Out Of Babies, tendo lançado desde então dois full-lengths, um split com o Gregor Samsa e um ep, sendo o segundo álbum
(Every Red Heart Shines Towards The Red Sun)
o que deixarei aqui.
Sua sonoridade não vai muito longe daquilo que as bandas principais de seus integrantes fazem, pelo menos em essência, mas as semelhanças não vai muito além disso. As músicas são todas instrumentais e bem longas, a maioria delas girando em torno de 10 minutos, e possuem uma toada mais suave e espontânea do que a média dos grupos que habitam o gênero, o que daria margem, num possível show, de emendá-las em várias sessões de improvisos ao melhor estilo free jazz.
Além disso, destacam-se também os nomes gigantescos que cada música carrega, como se traduzissem o que se passa no universo de cada música através deles e, juntos, formassem uma história e essa história contivesse a mensagem do álbum. Pelo que li, este álbum é sobre um problema que houve na China durante o ano de 1959 e 1961, onde milhões de pessoas morreram de fome nesta época. Então, o governo chinês criou uma campanha pró-eliminação de pardais e qualquer criatura que pudesse arruinar as lavouras do país. Fato esse que não foi bem sucedido pois, apesar de terem alcançado o objetivo (eliminar os pássaros), houve um crescimento gigantesco da população de gafanhotos, destruindo as lavouras do mesmo jeito. Curioso, não? Pois é, um pouco de cultura inútil sempre faz bem.
Sobre o álbum em si, diria que não há nada de revolucionário e transcendental nele, mas, bem, isso não o torna menos desinteressante e nem digno de apreciação. Aliás, penso que o seu diferencial em relação as toneladas de bandas do gênero é justamente o seu aparentemente descompromisso. Eles sabem que não revolucioná-lo e nem desejam isso, parecem querer só fazer música pelo bel prazer de fazer música, com o intuito de entreter e fazer o ouvinte embarcar nas viagens sônicas que constroem, sendo um álbum ideal para se escutar enquanto dá uma caminhada de manhã ou simplesmente se está a fim de relaxar e ficar de cara pro vento. E, nisso, eles são muito bons, admito.
//Como acabei de receber em mãos - ou melhor, em Megabytes, o novo trabalho dos pardais vermelhos, não pude deixar de postá-lo mesmo as 2 da manhã. Trate-se do "
The fear is excruciating, but therein lies the answer"
, terceiro full-length da banda, e primeiro material inédito desde 2008. Nele, a pegada dos trabalhos antigos continua ali, forte e inabalável, embora note-se uma suavização de sua sonoridade em comparação a eles. O que não é nada de ruim, muito pelo contrário! Achei Interessantíssimo esse approach mais light e atmosférico, soando mais laid-back e muito agradável de se ouvir. Como disse antes, pode não ser o álbum nem a banda que vai revolucionar o Post-Rock, mas sua naturalidade e talento para construir harmonias simples e pegajosas, num estilo no qual isso parece estar ficando de lado, o torna muito atrativo.
Enfim, nada mais a dizer. Aprecie-o!
[last.fm]
|
[myspace]
| [official homepage]
[2010] The Fear Is Excruciating, But Therein Lies The Answer
01 - Truths Arise
02 - In Illusions of Order
03 - A Hail of Bombs
04 - Giving Birth to Imagined Saviors
05 - A Swarm
06 - In Every Mind
07 - A Mutiny
08 - As Each End Looms and Subsides

[purchase]

[download]
ps:
To be released in April 6th.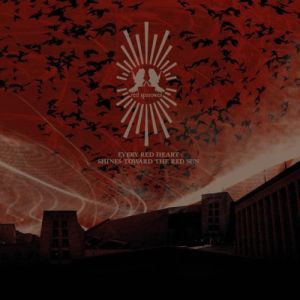 [2006] Every Red Heart Shines toward the Red Sun
01. The Great Leap Forward Poured Down Upon Us One Day Like a Mighty Storm, Suddenly and Furiously Blinding Our Senses.
02. We Stood Transfixed in Blank Devotion As Our Leader Spoke to Us, Looking Down on Our Mute Faces with a Great, Raging, and Unseeing Eye.
03. Like the Howling Glory of the Darkest Winds, This Voice Was Thunderous and the Words Holy, Tangling Their Way Around Our Hearts and Clutching Our Innocent Awe
04. A Message of Avarice Rained Down Upon Us and Carried Us Away into False Dreams of Endless Riches
05. Annihilate the Sparrow, That Stealer of Seed, and Our Harvests Will Abound; We Will Watch Our Wealth Flood In
06. And by Our Own Hand Did Every Last Bird Lie Silent in Their Puddles, the Air Barren of Song as the Clouds Drifted Away
07. Millions Starved and Became Skinnier and Skinnier, While Our Leaders Became Fatter and Fatter
08. Finally, As That Blazing Sun Shone Down Upon Us, Did We Know That True Enemy Was the Voice of Blind Idolatry; and Only Then Did We Begin to Think for Ourselves
[review in english]

[purchase]
[download]